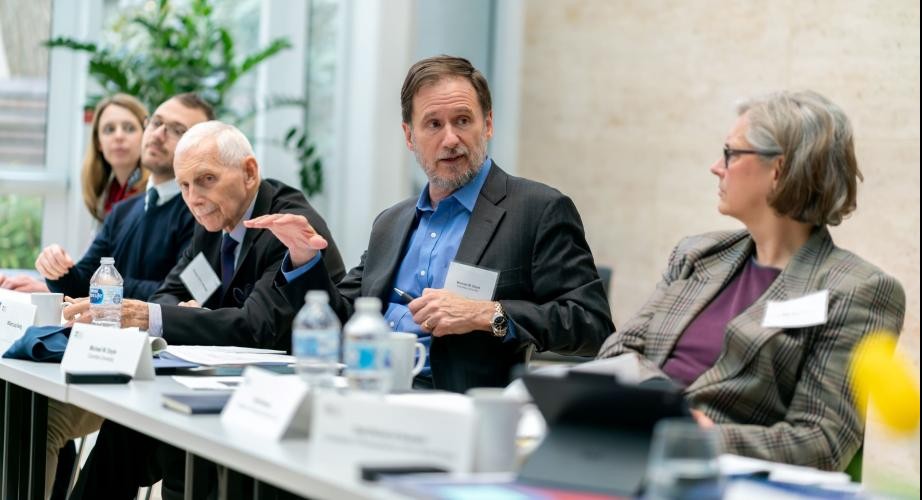 Perry World House and Visiting Scholar Professor Michael Doyle hosted a workshop on the Model International Mobility Declaration (MIMD), a cumulative and comprehensive treaty that summarizes and builds on the mobility reform agenda of the Model International Mobility Convention, launched in 2017. In this workshop, academics and policymakers from around the world in the fields of migration, human rights, national security, labor economics, and refugee law convened to provide commentary and revisions to the MIMD.
Ambassador William Lacy Swing, former Director-General of the International Organization of Migration delivered an opening keynote lecture for the two-day workshop. Ambassador Swing discussed migration, displacement, and the age of humanitarian crises, including how the global community might ensure "safe, orderly, and regular" migration in a disorderly world.
Throughout the workshop, each session focused on a different sub-issue within the document with expert commentators beginning the conversation followed by open debate. The first session sought to define the protections of visitors, tourists, and students as they move across borders. The next session on labor and investors delved into the implications for temporary migrant workers and collective rights of families and communities. The third session on forced migrants and refugees explored the rights of refugees in the broader context of human rights and the connection to the global refugee regime. The following session on governance produced broad classes of recommendations including the relation to existing human rights organizations, the value of an assembly and tribunal, and the relation to prior human rights treaties. The final session focused on advocacy strategy and policy development from several angles. Many recommendations were proposed to elevate the discussion of the MIMD beyond its current audience. These stressed the significance of building partnerships with different entities including cities and the United Nations, as well as committing to a full implementation as opposed to an incremental approach.
This workshop brought fruitful discussion, thoughtful suggestions, and detailed commentary which will be used to inform revisions to the MIMD. During closing remarks, Professor Doyle encouraged participants to continue the dialogue on future versions of the MIMD and to consider advocacy strategies to shift the MIMD from development to implementation.
The full text of Ambassador Swing's keynote remarks are available here.